Australian Gambling Laws
All You Need to Know About Australian Gambling Laws
The first thing every player needs to know is that gambling regulations in Australia are the responsibility of the states. Traditionally gambling services are regulated by state and territory governments. Despite that, recent changes strengthened the role of the Commonwealth in the gambling area.
New technologies and communications are adopted fast within the gambling industry which attracts the interest of the Commonwealth. Online gambling has a significant influence on regulatory mechanisms, community welfare, and tax collection.
For that reason, Federal Government passed legislation to stop Australian online casinos from providing services to citizens of Australia. On the other hand, these legislations do not make it illegal for players from Australia to play online.
What Does an Interactive Gambling Act 2001 Say?

The Interactive Gambling Act (IGA) was created in 2001 and had a goal to curb the negative influence of online gambling in Aussie. Gambling operators were targeted by the act.
There were restrictions from advertising 'real money' online games to Aussie residents. At the same time, Australian players are still free to use services of online casinos licensed and located outside the country.

At the same there were no restrictions for Australian companies to offer services to residents of other countries.

The IGA also stated that as long as the company remained unaware that the services were offered to Australian residents, they could not take responsibility for that. For that reason, local online casinos put warnings, alerts, and address check procedures on their websites prior to sign up.

The act had several loopholes that led to the revival of the bill.

In 2016 the Interactive Gambling Bill 2016 was passed. As a result, online casino gaming was prohibited even if the casino is Australian. There were no penalties for players playing at casinos lacking licenses.

New restrictions covered not only pokies but online poker too.

On the other hand, sports betting and online lotteries are legal. Players can also use the services of offshore betting companies with no license that offer bets to Australians.
Aussie Online Gaming: Legal or Not?
As we see from the text above some forms of online gambling are allowed. Actually, there exist two levels of gambling regulations in Australia. First of all, it's Federal Government laws concerning the industry. Secondly, the state and territory authorities have their own rules and regulations.
Online pokies are legal for local players. Moreover, you can find pokie machines in clubs, pubs, and casinos. Actually gambling in Australia is so popular like in no other country in the world.
Despite the fact that online poker is popular within Australian casinos, it remains illegal. Providing games like roulette, baccarat, video poker, craps, and blackjack to Aussie players are illegal. But players are not restricted from participating in these games. Most lotteries are legal, and it is also legal to bet on the outcome of lotteries.
Federal and State Regulations of Online Gambling in Australia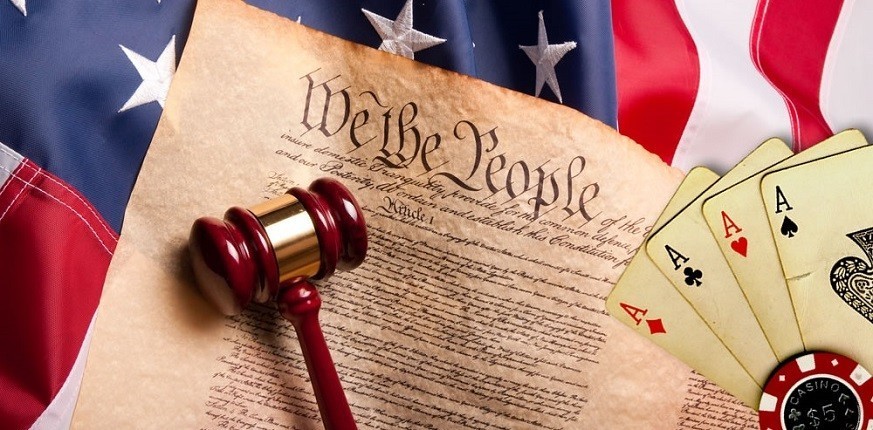 Gambling laws are legislated both federally and locally. Here is the list of local authorities, regulating gambling operations within certain territories:
An independent statutory authority named The ACT and Gambling Commission is responsible for regulating and controlling betting, gambling, and racing operations within the ACT.

Conducting and developing gaming, racing, liquor, and charity industries in NSW is the responsibility of the NSW Department of Gaming and Racing.

NT has two main authorities: the Racing and Gaming Authority and the NT Gaming Machine Commission (giving licenses to gaming machines).

In Queensland the regulating authority is the Queensland Office of Liquor and Gaming Regulation.

In South Australia the supervision of casino and gaming licenses is the responsibility of the Gaming Supervisory Authority. And Office of the Liquor and Gaming Commissioner supervises the licenses.

Gaming in Tasmania is regulated by Tasmanian Liquor and Gaming Commission.

Gambling activities in Victoria are regulated by Victorian Commission for Gambling and Liquor Regulation.

Office of Racing, Gaming, and Liquor regulate WA legislation with these areas. The authority provides licenses, controls, and audits gambling operations.
Do You Need to Pay Taxes for Winning in Australia?
Players do not need to pay taxes, gambling operators do. No income taxes must be paid on the winnings. This income is viewed as a result of luck or a hobby.
Taxes for gambling operators depend on game types. The location also plays an important role. From state to state taxes might differ. One more type of tax is license fees.
Players can face only one type of charges and fees when gambling online. These are fees for converting currencies and fees for deposits and withdrawals when playing in international casinos.
IGA in Detail
The IGA does not have any restrictions for individual players from Australia to gamble online. It is targeted at companies that provide gambling and gaming services online. According to the IGA, it is not legal to accept customers from Australia for online gambling activities.
 Providing online poker services to Australians is also prohibited. It kept Australian companies from starting online poker websites, but it didn't have much influence on foreign gambling operators that stayed on market.
So, millions of players from all around the country still had access to online poker and other casino games but with foreign companies. Most of them were registered in the Caribbean, in Europe, or elsewhere.
How Do Recent Legal Changes Affect the Situation?
To solve the problem of players having an opportunity to play with foreign websites, the legislators offered that Australia should have a law similar to UIGEA in the United States. The main target of the law is banks. The law will make it illegal for banks to process transactions related to online gambling. But this approach did not have successful.
 The banks stated that there are many legal online gambling activities in Australia, so it will be difficult to identify the nature of the transaction and this is the weak point of the scheme.
On the other hand, there arises one more problem. It's a money flow out of the country existing because of the restrictions. The problem will be solved if Australian operators have an opportunity to receive licenses and provide gambling services within the country. Australian players will have a chance to play on local websites. But it looks like these ideas will not be supported in near future.
2017 Interactive Gambling Act Reforms
The IGA was updated in 2017. The changes were aimed to target foreign companies providing illegal gambling services to Australians online.
Within 12 months after these changes came into force, 33 gambling operators withdrew from the country. 10 measures were implemented by the National Consumer Protection Framework to protect problem gamblers. One of the measures was an ability for players to include themselves in a list that restricts access to all the existing online gambling services. Another measure was choosing a limit before starting gambling.
Interesting information
Fantasy sports betting is gaining popularity within the past 10 years. This activity is licensed in the Northern Territory.
The following gambling activities are still prohibited by federal gambling laws:
---