KINZA 2023: Kazakhstan to Host its First Ever Affiliate Marketing Forum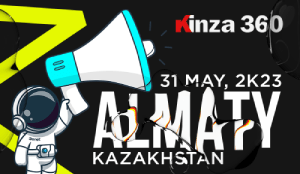 Kazakhstan has emerged as a top destination for internet marketers, thanks to the country's rapid growth in online advertising, digital currencies, and a supportive community. The upcoming KINZA forum, to be held on May 31, 2023, will bring together over 2,000 affiliate marketing experts from across CIS countries in Almaty.
Atakent Expo.
The Atakent-Expo exhibition complex, which is one of the largest and most advanced in Central Asia, has been chosen as the venue for the forum. The complex offers a range of facilities, including hotels, restaurants, cafes, shopping centers, and parks. The KINZA Kazakhstan event will occupy a massive area of over 3,200 square meters within the complex.
The exhibition area at the forum will feature over 50 exhibitors, presenting a range of products and services related to traffic arbitrage. These include partner networks, trackers, anti-detection browsers, and payment services. Attendees can expect to see eye-catching stands showcasing the latest technologies in the field.
The forum will feature 15 expert speakers sharing fresh case studies and innovative strategies about traffic arbitrage and working with offers in high-demand verticals. As a rule, 80% of the presentations will be about new content. The speakers will include Alex Slobozhenko, Founder & CEO of Traffic Devils, Denis Lagutenko, founder of ADSbase, Semyon Verushkin, CEO & Founder of Lead-Magnet Holding, Anton Voystrikov, Founder&CEO CLICKLEAD, and many others.
After the business program of the forum, all guests with Business and VIP-tickets will be treated to a lavish after-party, promising real oriental hospitality, show programs, and surprises. The KINZA Awards ceremony, which will begin in March of this year, will be one of the highlights of the party.
"When selecting a location for the new forum, we considered a variety of factors, from the legislative framework and development of the advertising market to the possibility of building pavilions and the cost of air travel from different countries. Kazakhstan emerged as the perfect destination that meets all our requirements," said Denis Lagutenko, the founder of ADSbase holding company and owner of the KINZA forum. "We believe that forums like ours promote the development of the industry and help to bring traffic arbitrage in Kazakhstan to a new level."
Tickets for the conference can be purchased conveniently on the website (UTM), with an exclusive promo code offering a discount. Affiliate marketing has become an essential part of the online business world. The KINZA forum offers a unique opportunity to learn from accomplished marketing experts, gain insight into cutting-edge marketing tactics, and network with other marketing professionals from around the world. Attendees can expect to gain new knowledge and have an unforgettable experience. See you at KINZA Kazakhstan!
You can purchase tickets to the conference at (UTM)
There is a nice discount of ___% by promo code ______, don't forget to take advantage of it. See you at KINZA Kazakhstan!
---