Asian Gambling News and Plans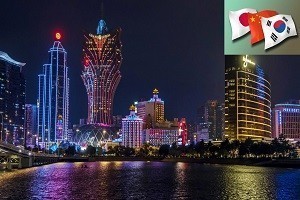 Japan, China, and South Korea were reported to be the center of the casino industry's growth in the future. These three richest Asian countries are focused on driving casino activities in the continent, as Goldman Sachs stated.
Gamblers from these three countries are expected to account for 80% of all the Asia-Pacific's region total addressable market going forward. This was discussed during Japan IR Forum Online. The current situation is that gamblers from these countries do not receive all the services they require in their home countries. In Japan pachinko is one of the leading gaming activities, though integrated resorts were approved and will be launched during the next few years.
In South Korea, foreign players can visit casinos, and in China, Macau is the only territory where gambling is legal.
New integrated resorts are not expected to drive a big amount of Japanese gambling expenses. It is more expected to take from the pachinko's business.
The cities for the first three casinos are to be decided soon. The leading contenders are Osaka, Nagasaki, and Yokohama. The planned opening date is set for 2026 or 2027.
COVID-19 Restrictions and Local Gamblers
Domestic gamblers are expected to recover from the COVID-19 impact on the industry sooner than destination markets. In Goldman Sachs managing director's opinion, Macau, Cambodia, and Malaysia will recover fast. Asia-Pacific region shows a tendency to return to pre-pandemic level during the next year. Other analysts are also optimistic and regard 2022 as a timeline to recovery.
Macau Gambling Revenues Increased during the First Quarter
Gaming revenues in Macau shown growth and reached US$1.14 billion during the first quarter of 2021.
Mass market games account for 61,4% of all Macau's casino GGR in the first quarter, while the VIP segment is under commercial pressure because of pandemic-related restrictions and regulatory factors.
The overall numbers show growth compared to the last quarter of 2020 but are lower compared to the results of the same period last year.
---