Is VR the Future of Online Gambling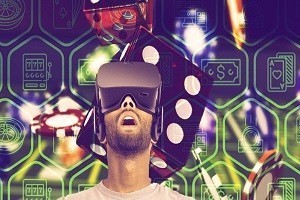 For all of its affordability and overall accessibility, the so-called Metaverse doesn't seem to offer much to online gamblers. That is a little puzzling especially since online gambling has been driven by technology for decades. Considering the sheer size of the online gambling market adds to the mystery.
Solid numbers are hard to come by thanks to the clandestine nature of some of the biggest markets like offshore casinos serving the US, Australia, and other regions with ill-defined or unenforced regulations. But even Statista tells us that the world market reached US$231 billion in 2021. Last year, more than a million workers were employed in the industry.
When SlotsMillions VR Casino was launched in 2015, it preceded the Oculus Rift and HTC Vive consumer goggles needed to play it and was only available through developer kits. It also took a high-end PC and the games were delivered in the now completely defunct Flash format. Still, there were about 40 virtual machines in an orderly space that could be explored.
A Virtual reality
Today, almost anyone can get a high-quality stand-alone headset for as little as $249 on sale and never more than $299. But the Metaverse is not ready for us yet. Unless there is a super-secret development we're unaware of, that is not likely to change any time soon. That doesn't mean you can't play online casino games for real money in VR.
Aside from the nearly decade-old SlotsMillions and a social PokerStars app, all we've found is a hybrid experience. You can import your desktop screen to a VR 'room' and play big slots, live cards, and RNG table games – you can't mingle at the tables yet.
Immersed Agent and vSpatial are the two best 'work' apps to use at this point. You can basically enter a space or create an environment and then 'beam' your computer's display onto a virtual screen you can make as large as you like and even curve it to almost 180 degrees so you have spinning reels in your peripheral vision.
Both programs are free but can be upgraded to multiple screens and additional premium services are offered.
Another option, one we haven't explored for integrity is ICE Poker, provided by Decentraland. This is a bit more complicated than banking at your favorite casino and casting it into your headset and involves 'earning wearables' like jackets, slacks, and sunglasses and those can supposedly be cashed out.
The company explains: "Decentral Games' play-to-earn ICE Poker lets anyone earn $ICE by purchasing or receiving delegation to an ICE Poker Wearable NFT ( non-fungible tokens) and completing daily poker challenges in the Metaverse. To get started, either buy an ICE wearable on DCL Marketplace/ OpenSea or find someone to delegate a wearable to you in our Discord."
Another development that may be worth watching is a collaboration between Decentral Games and Amnesia Ibiza who created Amnesia Ibiza Club. Here you can reportedly use NFTs to purchase the game and play.
However, the process may not be as clever as it appears on the surface. Last week, it was reported that Securities regulators in Texas and Alabama had ordered Sand Vegas Casino Club developers to stop selling (NFTs). These NFTs were offered as a way to invest in casino profits. While not directly related to purchasing or cashing out 'chips' or another thing of value, the cease and desist order appeared to be the regulator's first move into the metaverse.
---