SOFTSWISS: Analyzing the State of Cryptocurrency in iGaming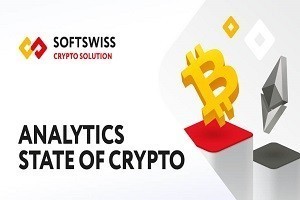 SOFTSWISS was one of the first companies to venture into online crypto-casinos and has maintained its position as a leader in the industry. Its multi-metric solutions company focuses on cryptocurrency gambling, giving it a unique position to analyze the state of coins in iGaming. With over a decade of experience and access to a wealth of data through its Game Aggregator and Casino Platform, the company has about 700 clients using one or both of these solutions. While quarterly updates provide valuable just-in-time information, annual reports better reflect longer-term trends.
In 2022, the trends in digital coin gambling compared to 2021 were not particularly favorable, and there was a recent trend towards returning to fiat currencies for online gambling. However, it's important to note that all data comes from SS customers, and the introduction of a coin-to-fiat converter halfway through the year meant that all bets placed in fiat currencies, even if the deposit and withdrawals were in cryptos, were counted as fiat bets. The value of Bitcoin and Ethereum, the two largest cryptocurrencies by market cap, fell 65% and 67% year on year.
Overall, crypto betting fell by almost 15%, but Ether increased its share of the total bets made against Bitcoin. Crypto trends in iGaming are linked to the macroeconomy and crypto's place in it. While many players may have been hesitant to use digital currencies due to chaotic events such as November's FTX debacle, gambling on the company's platform increased significantly when taking fiat currency into account. The company's platform saw a 31% increase in total bets made in 2022 over those made in 2021, and Gross Gaming Revenue (GGR) increased 36% over 2021 numbers.
Contributing to the rise in numbers may have been an increasing number of SOFTSWISS game aggregator clients, new partnerships with 18 game studios and three new providers accredited in Malta, and the consistent geographical expansion of existing clients. GGR rose 36% in 2022 from 2.4b EUR to 3.3b, much of which may be attributable to the explosive Latin American market expansion, with SS working steadily to help clients capture the nascent lucrative market.
Looking at the phenomenal growth of fiat betting as well as revenues compared to less-than-stellar crypto performance, it's clear that BTC and ETH moved in different directions. Bitcoin's slice of the total crypto pie lost 7.4% percentage points over the year, while Ethereum gained popularity among players by 3.7%. Fiat bets accounted for 76% of all bets on the platform by the end of 2022.
The CEO of SOFTSWISS, Vitali Matsukevich, expressed optimism for 2023 and asserted that players will not abandon crypto thanks to its decentralized nature, transaction speed, and anonymity. He also stated that despite all digital coin fluctuations, crypto has gained a significant share among players and operators and has become an integral part of the market. SOFTSWISS will continue to strengthen its partners' projects, whether fiat or crypto, with new innovative tools and solutions, providing operators with security, reliability, and top-level service.
---