Sydney casino big gambler gets $50,000 Rolex watch from Star Entertainment Group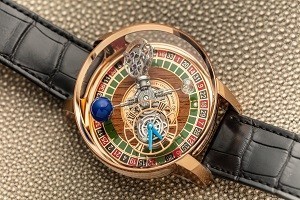 A high roller previously banned from a Sydney casino was twice flown to Queensland on a private jet and given a $50,000 Rolex watch from Star Entertainment Group as a birthday gift for "loyalty" to its Gold Coast casino, an inquiry has been told.
Star's domestic and international casino marketing president Chris Peasley denied they were actively "pursuing" the gambler, dubbed 'person 1'.
But he later admitted to the Gotterson inquiry it was not in line with the company's policies around patrons banned interstate.
"We say at the time we were rewarding, recognising loyalty," Mr Peasley said.
"The mere fact that 'person 1' was even allowed to participate in the loyalty program is an inducement or incentive, so I think we've had failings from the get-go."
The admission came after the inquiry examining Star's existing Queensland casino operations, The Star Gold Coast and Treasury Brisbane, heard 'person 1' had been given an exclusion order by the New South Wales police commissioner, banning them from a casino venue, in 2007.
Despite that, 'person 1' was given gifts and benefits for frequenting Star's Gold Coast casino – including a Rolex watch, a custom birthday cake, trips on a private jet in October 2019 and December 2020, and more than $30,000 in compensation payments for losing big, with the list of compensation and benefits he received between 2015 and 2021 spanning 719 pages.
We were not in line with the policies'
The inquiry heard Star's exclusion policy from August 2015 barred any activity by staff that "may be considered" to be an "inducement or solicitation" for a person subject to an exclusion order at a Star venue to visit a casino.
Mr Peasley said at the time, he had not seen or read the exclusion policy, but that "it was verbalised to me" and he was not aware of that particular section.
From February 2019, the company's policy prohibited any activities that "may be interpreted" as an inducement or solicitation to the excluded person to gamble in one of their casinos.
"In effect what you did with the cake and the Rolex and other things was really to induce or solicit 'person 1' to visit a casino in Queensland?" Mr Horton asked.
"Looking at the exclusion policies … we were not in line with the policies," Mr Peasley said.
Star's commitment to anti-money laundering responsibilities, the use of China UnionPay debit or credit card facilities, gambling harm minimisation, and instances of people excluded from casinos interstate being incentivised to travel to gamble at Star's Queensland venues are among the key issues being probed at the inquiry.
The review will also provide advice to the Attorney-General about the ongoing suitability of Star Group licensees to hold a casino licence as its multi-billion dollar Queen's Wharf casino development in Brisbane's CBD is set to open next year.
The independent review was commissioned by the state government in June and came after allegations of money laundering and fraudulent activity were aired during an inquiry in New South Wales.
The hearing continues.
---