The Take-Two Interactive Is Likely to Acquire Zynga Platform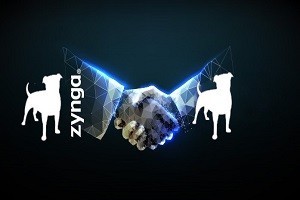 Zynga might be sold for $15.4 billion to a Take-Two Interactive video game provider. This deal will allow the provider to add FarmVille and other famous mobile games to its portfolio of on-the-go gaming titles. This purchase is said to be the biggest ever in the industry. 
The Influence on the Industry
This deal will have a significant influence on the gaming industry. Take-Two used to have a gap in mobile gaming compared to competitors, and now the provider is about to close this gap.
Zynga shares increased in price by 45%, while Take-Two shares fell about 15%. The acquisition is expected in the first half of 2022. Zynga can negotiate with other potential buyers to receive a better offer until February 24, during a so-called go-shop period.
At the end of 2021, Zynga lost over a third of the company's market value which was the biggest drop among major game providers. This resulted from Apple's decision to let users restrict being tracked by advertisers. 
The analysts expect the mobile gaming market to reach a size of US$166.4 billion within the next two years. More deals in the sector will not be a surprise. 
Investments in the Aussie Gaming Market
Australia is a very attractive place for investors in gaming. This can be explained by the fact that the country holds a leading position among countries with high gambling spending per capita. High labour costs and a hospitality staffing crisis do not scare potential investors away. 
Prior to the pandemic, one of the biggest gambling operator Star Entertainment Group had staffing costs of $690,9 per table daily against $488 in Macau and $575 in Las Vegas. Costs on electronic gaming machines were $18,4, $13, and $18 correspondently.
---