Online casino activity swells in Cambodia grow to $72 billion in 2021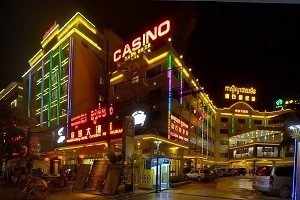 Chinese authorities are coming down hard on online gambling and there are rumblings that similar things are happening in Cambodia.
The reports that as COVID-19 marches on, casinos in Cambodia remain shut in compliance with the pandemic restrictions.
However, it has become common knowledge that online gambling, whose websites feature a myriad of live casino games as well as slot machines, roulette, sports betting, lottery and poker, persisted in the shadows despite a government ban on operations that came into force on January 1, 2020.
Recent news reports of crackdowns on the activity of nondescript premises in Phnom Penh including one in Daun Penh district and a massive raid by the Military Police at a condominium tower in Boeung Keng Kang I commune – with the arrests of more than 100 foreign nationals and grim details of alleged human trafficking and abuses, only confirmed suspicions of its veiled continuity all these years.
In March 2021, the Macau-nbased Asian Gaming Brief wrote an editorial quoting industry expert Ben Lee, managing director of iGamix Management and Consulting, who expressed shock over the sector's activity in Sihanoukville.
"We just completed a site survey in Cambodia for a client…the act that online gambling is coming back is a surprise," Lee said.
In a text message, he alleged that the area around the Golden Lion Circle, an iconic roundabout in the centre of coastal city Sihanoukville, was rife with such activities.
Cambodia proves to be an attractive location for online gambling
Its continued existence is down to the lucrative earnings that operators make from players.
Even more so in the last 12 months, after the online gambling market grew to $64.13 billion in 2020.
According to Research and Markets, the value of online gambling is expected to grow to $72.02 billion in 2021, while London-based tech research and advisory firm Technavio estimated the size of the market to balloon to $114.2 billion by 2024.
About 36 per cent of that growth will likely originate from Asia Pacific, Technavio said.
Back home, the market value of the segment has halved, indicating a smaller playing field since the ban, where gross gaming revenue stood at around $2 billion compared to some $5 billion three years ago.
What makes Cambodia an attractive location for such operators could be related to reasons both acrimonious and compelling. This, despite the legalisation of online gambling in the Philippines.
However, Lee offered that the Philippines has a reputation for slaughtering the proverbial golden goose.
Their ambitious taxes but most importantly their hidden taxes, ranging from 20 to 50 per cent, have always been a deterrent to long-term foreign investment, he said.
---